CURIOUS ABOUT MEDICAL EQUIPMENTS? HERE IS EVERYTHING YOU NEED TO KNOW!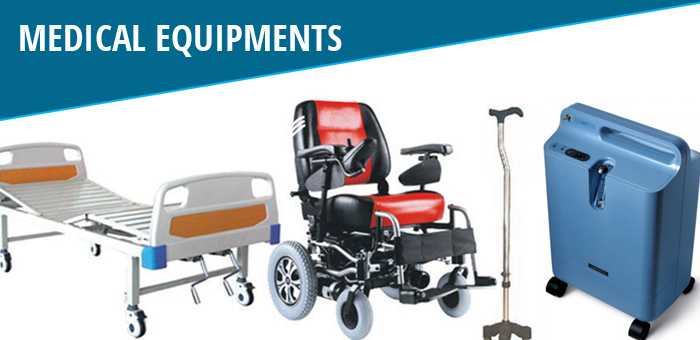 Medical equipments are basically referred to those equipments and devices that are specifically used in the various medical fields and are applicable over a wide range of sub categories of the corresponding field.
These medical equipments are further divided into various categories depending on the kind of application they find in the corresponding medical field.
Broadly, they are of the following types:
1) Diagnostic Equipments
These types of equipments are specifically used for diagnosis purposes and include the various medical imaging equipments like X-ray machines, Ultra sound machines, PET scanners, CT scanners and the like.
2) Life Support Equipments
These types of equipments are specifically used for various life support systems for smooth maintenance of a patient's body organ functioning on the whole. Anesthetic machines, heart defibrillators, heart-lung machines, medical ventilators, dialysis devices, etc.
3) Treatment Equipments
These types of equipments are primarily used for the major and minor treatment purposes and range from infusion pumps, lasers and various other surgical machines accordingly. These however are very bulky in nature when it comes to major treatments and are not usually available for the general public to operate.
4) Home Diagnosis Equipments
These include equipments specifically catering to the home diagnosis purposes including diabetic control equipments, insulin administering devices, pulse oximeter, etc.
These equipments are however used for minor diagnosis purposes only and any serious medical condition needs to be administered by the specific doctor only for best results.
5) Monitoring Equipments
As per the name suggests, these equipments specifically cater to the monitoring of the various medical conditions, include heart rate monitor like the ECG, monitoring of blood pressure etc.
6) Therapeutic Equipments
These types of equipments basically list the CPM equipments and machines for various therapeutic purposes, etc.
7) Medical Lab Equipments
Medical lab equipments which include equipments used for various testing purposes, especially testing of the various bodily fluids for determining the exact reason of a particular medical condition on a general scale as such.
8) Home Servicing Equipments
Unlike the home diagnosis equipments which primarily cater to the diagnosis of minor ailments, these types of equipments are basically used for catering to regular life operations, while on a particular medical condition as such. These include patient lift, wheelchair, crutches, Bedpan, Catheter, etc.
9) Dental Equipments
These types of equipments are usually used by dentists and various other dental doctors. Some of these equipments are usually bulky in nature, considering the level of dental practice carried out and the graveness factor of the corresponding medical condition of the particular patient.
Most of the hospitals and third party equipment providers indulge in provision of these medical equipments on rent for better home servicing features at customized rates.
One can also get hold of such medical equipments on rent in Jaipur, Delhi, Mumbai and other major cities, wherein the demand for the same is huge.
Hence, one can easily avail all these medical equipments online with the greatest affordable prices for experiencing better personal service purposes on a comparatively larger scale.